The CAKEPOP IDO is running on an overflow method. It utilizes CUB-BUSD LP tokens for the raise. Here's a quick tutorial on how to participate - it's much easier than you think!
1). Get CUB-BUSD
The first thing you need are CUB and BUSD tokens.
CUB can be purchased on https://exchange.cubdefi.com. BUSD can be purchased there or on any major DeFi platform on BSC.
2). Pool CUB-BUSD on PancakeSwap V2
Go to PancakeSwap LP and pool CUB-BUSD together to get CUB-BUSD LP tokens.
3). Go to the NEW IDO Page on CubFinance
Head over to https://cubdefi.com/ido to see the current IDO status.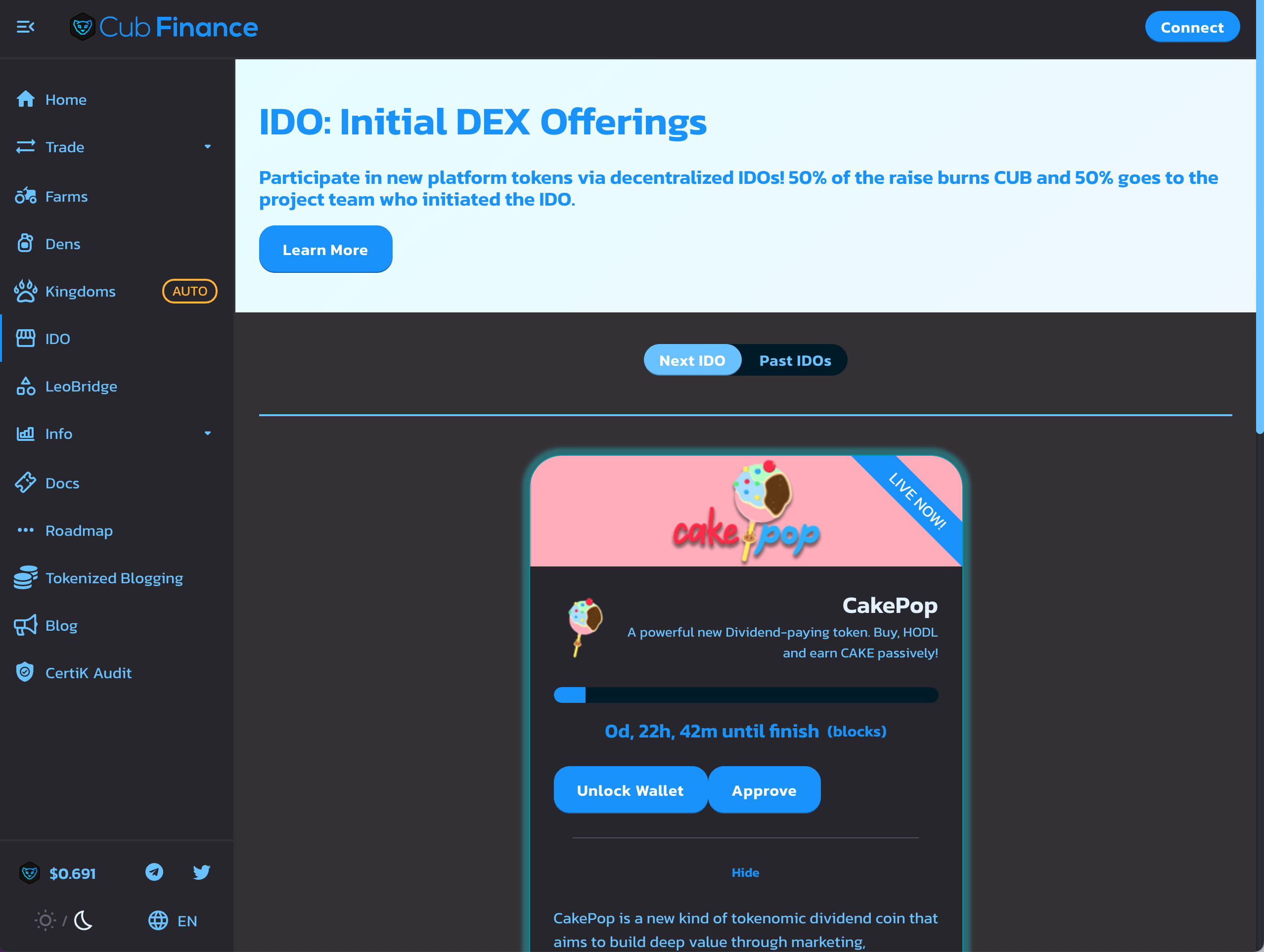 Unlock your wallet (sign in with Metamask)

Click "Approve" to approve CUB-BUSD LP token spending

Click "Commit" and then select how much CUB-BUSD to allocate to the IDO

Confirm the TX with Metamask

Done! Wait for the IDO to finish and then come back to the IDO page to claim your IDO tokens and any unspent CUB-BUSD (in the event of an overflow)
How do I know how much CAKEPOP I will get?
This will depend on if the raise is overfilled. If the raise is not overfilled, then you'll get CAKEPOP at a rate of $0.000375
How much will I make on the launch?
DYOR! With any token launch, things can be crazy and there is no predicting what can happen. The IDO valuation is 50% less than the launch price of CAKEPOP so there is some value baked in to being an early backer of the project.
When will I receive my CAKEPOP tokens?
CAKEPOP will become claimable on the IDO page once the raise is finished.